Biography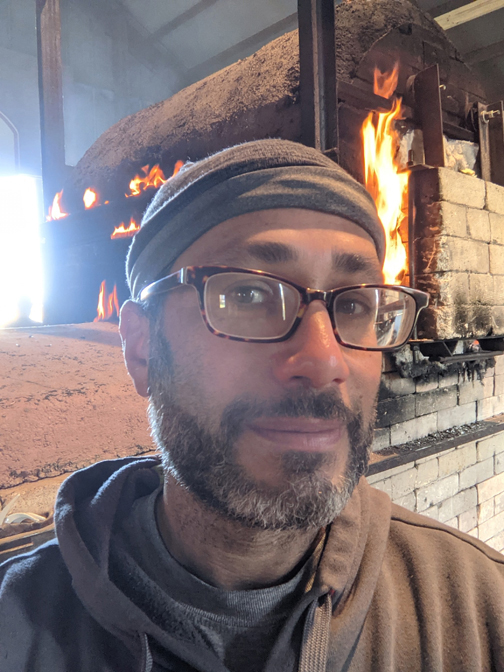 Simon Levin has been working in clay since 1990, when an elective ceramics course changed the arc of his life. Simon is a full time studio potter working exclusively with wood firing. He holds an MFA from the University of Iowa. He exhibits, teaches, builds kilns, and is published internationally. Though a writer of many bios, Simon still dislikes writing about himself in the third person. In 2013 he was a Senior Fulbright Scholar researching local materials in Taiwan. Between 2004 and 2020 his apprenticeship program has trained and influenced 22 potters. He hosts a video series on the Ceramics Arts Network, where he brings dialogue to process. Currently the Director at Large for NCECA, Simon seeks everyday to advance the frontiers of clay, and evangelize for this empowering material.
Artist Statement
Several years ago I stood back and looked at my work, taking stock of what I saw I decided where I wanted it to go. Being overly ambitious, and seeking an ideal rather than the practical I aimed high. I decided I wanted my work to reach past the contemporary, beyond style and taste, touching something primal in all of us. I wanted to make work that reaches that which is first in the human experience, pottery that draws from tradition but resonates regardless of when it might be experienced.
In the 6th century a monk named Dorotheus of Gaza wrote a beautiful metaphor for God. Dorotheus spoke of God as the hub on a wheel, and we are all spokes around that center. In order for us to move closer to God we must move closer to everyone else on that wheel, and in the center is oneness. Anything that is divisive and exclusionary moves us away from all other people and thus moves us away from God.
In Judaism we have a core prayer called the Sh'ma. The Sh'ma says "Listen of Israel, the lord is God. The lord is one." The concept of unity, togetherness, oneness, center as divine permeates almost all religions, and spiritual disciplines. It is root theology.
For my own pottery I want it to speak to a broad audience but to do this by reaching core ideas rather than dilution and syncretism. The spokes on the wheel that I use to approach the center are, clay, elemental processes, simple drawings and line, functional pottery, and community objects.
More information about Simon can be found at: simonlevin.com